The 2021 National First Responders STAIR CLIMB celebrates 5 years on the 20th remembrance of September 11, 2001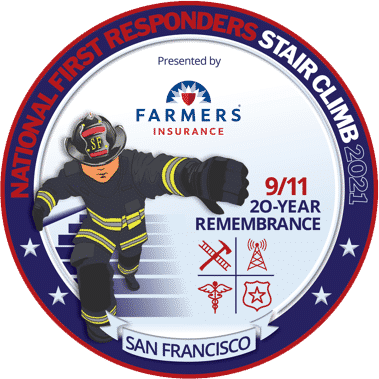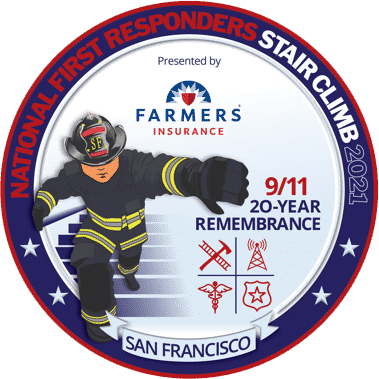 We are celebrating our 5th annual event on the 20th year remembrance of September 11, 2001 and will continue to make the event virtual as well as in person!
Registration Opens:
Tuesday, June 22nd, 2021
Fundraising Window:
6/22/2021 - 9/18/2021
Fundraising Goal:
$250,000+
Join us in person at 555 California Street in San Francisco, CA – or ANYWHERE virtually!
Registration opens June 17, 2021
Registration window is between June 17– September 11th
Our goal is to raise $250,000
Climb alongside heroes in one unforgettable day to honor sacrifices made by First Responders

Recorded promotional mentions on KLLC, KGMZ, KCBS, KITS, and KGMZ
Logo with station fundraising landing pages with drive to register/donate across all station websites
Event listings on all stations
6x station eblasts (across cluster) with drive to register/donate across all stations reaching
Over 120,000 opt-in listeners per group eblast
12 E-blasts to NFRF database of over 12,000 subscribers
Social media mentions on NFRF platforms reaching over 30K monthly
First Responders are there for us on our worst days. The NFRF is a 501C3 charitable organization founded to be there for them on their worst days (Tax ID# 82- 3266569). We care for those who care for us.
On a daily basis, Firefighters, Paramedics, and Police officers witness numerous tragic incidents while on duty. This recurrent, cumulative exposure to horrific events is the reason that more than 20% of First Responders suffer from Post-traumatic Stress Injuries (PTSI). Treatment options are available, but many of them are not covered by health insurance and must be paid for out-of-pocket. Oftentimes, these costs are prohibitive for a hero in need of help and can create obstacles for them to ask for the help. Our goal is to eliminate the barriers and allow them to get the help they need.
Sponsorship Level
HERO
$100,000
GUARDIAN
$50,000
PROTECTOR
$25,000
RESCUER
$10,000
CHAMPION
$5,000
ANGEL
$2,500
Sponsorship Opportunities
SOLD
2
5
10
34
52
Event marketed as "The National First Responders' Stair Climb presented by (your name here)"
Name & logo included in all virtual event marketing
X
Name and logo integrated into pre-event social content branding
X
Name and logo on event awards, certificates, and gifts
X
Name inclusion in media announcements (TV and radio)
X
Right of first refusal for 2022 event Sponsorship
X
Personalized Firefighters Axe framed for your company
X
Recognition in post virtual event thank you correspondence and press releases
X
X
Opportunity for company team to climb shoulder to shoulder* with initial group of First Responders
*pending CDC guidelines
X
X
Product or service category exclusivity, including 1 year online/offline license as an official sponsor of the NFRF. restrictions apply (6/21-6/22)
X
X
X
Free in-person event registrations
-20 for Hero and Guardian
-10 for Protector
-5 for Rescuer
(must still meet fundraising goal)
X
X
X
X
Logo placement on Step and Repeat, T-shirts on-site, 2x3 ft. company branded finish line banner
Champion level: logo placement on step and repeat only
X
X
X
X
X
Logo used in social media outlets
-Hero: all
-Guardian, Protector, Rescuer: two mentions
-Champion, Angel: one mention
X
X
X
X
X
X
Opportunity for 10'x10' booth at in-person event finish plaza (pending SF permit approval).
Table, two chairs and item or literature in the event goodie bag (virtual and in-person). Item is at sponsor's expense
Angel level: 6' table and 2 chairs; sponsor must provide own décor, signage, and activation
X
X
X
X
X
X