Frequently asked questions about the In-Person Climb on September 11th and the Virtual Climb starting September 3rd.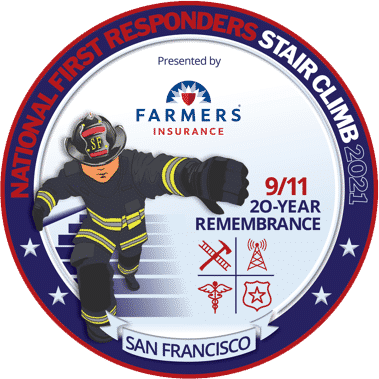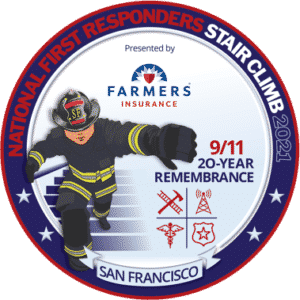 We will climb in-person together on Saturday September 11th, 2021. You will be assigned a start wave and that time will be emailed to you the week prior. The end time of the event will depend on how many people register and how much "social distancing" the City/county/state will require in September.
We will be climbing an internal stairwell at 555 California Street, San Francisco. We had our 2017 and 2018 climb events at this building and we really love working with them. They have been a huge supporter of the National First Responders Fund over the years. Formerly known as the Bank of America Center, 555 California is a 52-story 779 ft (237 m) skyscraper. It is the fourth tallest building in the City.
Registration for the climb costs $60. This amount is not tax-deductible and non-refundable. It goes to cover the administrative costs of producing the stair climb (stage, sound, tents, permits, etc).
In addition to the registration fee, all climbers must raise a minimum of $150 to be able to climb in-person on race day. We will give you the opportunity to donate onsite at the event if you have not yet reached your goal. All donations are tax-deductible.
Yes! The more you raise, the better the prizes!
$150 – Shirt, medal and bib
$350 – All of the above plus hat
$750 – All of the above plus hoodie
$1000 – All of the above, plus special VIP amenity for the 2022 climb
We will also have Social media and Fundraising Friday prizes which will be announced periodically. Follow us on Facebook, Instagram, and Twitter – or open your weekly emails – to be notified of these opportunities.
There is no minimum age for the virtual climb!
Yes, a sporting event like this does not need to be so serious! Let's have some fun!
Get your friends, family or co-workers together an form a team.
Team Costume: wear the same costume, have t-shirts made with your team name, or dress in a certain theme. Or have a competition with your team to see who has the most creative costume.
Post-event celebration: After the climb, get together with your team to share stories of the climb and unwind together. Maybe have an ice cream social at one person's house, or gather at a local restaurant.
Post photos to our Finisher Page!
Wow, you made it! We knew you could do it! At the 52nd floor you will receive a finisher medal to showcase your achievement. After a quick elevator ride back to the plaza you can connect with our sponsors, other climbers, and have a massage!
Visit our Facebook page to see posts from other climbers, and more!
Be sure to post that you've completed your climb on social media!
Sample Post: Climb completed! Mission Accomplished! Today I took to the stairs to raise funds for First Responders with Post Traumatic Stress Injuries. I climbed 1197 stairs in support. Please help us help those who help us by donating to my fundraising page. My goal is $500. Every donation helps!

We'd love to see your photos from your climb! Please use #WhyIClimb when you post your virtual climb photos so our entire community can see them! We will also be giving out social media posting prizes and featuring the best posts on our website.
And don't forget to keep fundraising. Send emails, post donation requests on Facebook, call your grandma – let people know you climbed for a cause. The more you raise, the bigger your rewards.
Things may look a little different this year. We will have more time/distance required between climbers, and won't have as big of a party in the plaza post-event.
We will follow all sanitation guidelines including having hand-sanitizer and hand wash stations available, and will routinely wipe down surfaces.
All climbers, staff and volunteers we be required to present proof of vaccination, or of a negative Covid test 48-72 hours before the event.
All participants, staff and volunteers will be required to wear a masks at all times (including while climbing, and outdoors in the plaza. Especially when interacting with event staff and volunteers).
Your $60 in-person registration fee is non-refundable. This fee goes to cover event-production expenses including permits, tenting, etc. If you cannot attend the event for any reason (have other plans, injury, health concerns, family emergency) you will forfeit your registration fee. Any funds raised toward your $150 goal can be applied towards a virtual climb award. Contact us at [email protected] for more details.
If the event is canceled by the NFRF or by the City/County/State due to Covid concerns, we will apply your registration fee to the 2022 in-person climb. Or we can convert your registration fee towards your fundraising goal and change your registration to a virtual climber.
You will receive your finisher medal and shirt after completing the climb onsite at the event. Additional awards (hats and hoodies) will be mailed out to you after the fundraising closes. Most likely it will be sent at the end of September.
Dogs or other emotional support animals will not be permitted in the stairwell. If you have a guide-dog and want to climb with it, please contact us and we will evaluate on a 1-on-1 basis (pending building and Emergency Response team approval). Climbers with dogs would likely go in the last wave.
Children 14 and over are allowed to climb (but must be a registered climber). Children under 14 may not accompany a climber in the stairwell (including children in back or front packs). Please arrange for child care or bring a caretaker with you to watch the child while you participate.
Water: You may carry a water bottle, or wear a waist pack hydration system. However, we will have water stations approximately every 10 floors, so you should be ok without your own water unless you really need it.
Music: You may wear a personal music device for the race as long as the volume level allows you to hear any instructions from building or host personnel in case of an emergency. Preferably in one ear only.
No backpacks are allowed (including child or pet carriers). Fanny packs or waist packs will be searched before entry to the stairwell.
Any item that is a weapon or can be used as a weapon is prohibited. This includes fire axes, police batons, etc even if you are a first responder and it is part of your tactical gear/uniform.
We encourage you to only bring what you need with you for the climb.
Please leave large bags and personal belongings of value at home.
The hosts plan to have a bag drop for small belongings. This will be dependent on City Covid regulations in September.
Please only check belongings of little to no value.
The hosts are not liable for lost or stolen items, including those left at the bag drop.
All bags are subject to search.
Are you asking yourself "What the heck is a virtual stair climb?!" You are not the only one. Here is some inspiration and information to help you explain it to your friends and family.
The Benefits of a Virtual Climb
Do your climb whenever and however you want: Usually we ask you to do the climb on a certain date at a certain time in a certain location. But what if you've got a schedule conflict? With a virtual climb, you pick the day, time and location. You have an entire week to pick the day that works best for you! Climb at 5am or 10pm or mid-day on a Tuesday – whenever works for you.
Do your climb wherever you want: Don't have the time or money to travel to San Francisco on September 11th? The thought of 1197 stairs all at once scares the jeepers out of you? With a virtual climb, you pick the activity – you are not restricted to stairs. Do it in your neighborhood or a local park. Walk, run, climb, bike, hike, swim, dance, roll or crawl – the activity is up to you.
Take as long as you need to complete the climb: Nobody's judging you. OK, we think our NFRF Stair Climb athletes are the best, and they would never judge you for being a slow climber. But that does not stop YOU from THINKING they are judging you, or from feeling you somehow have to beat the 18-year-old-All-American-athlete next to you. When you do a virtual climb, you just focus on doing your best and having a great time. No need to worry about finishing before the timing staff is gone and building security does their final stairwell sweep.
Hassle free! No driving/parking issues, and no need to stand in a long porta-potty line. That alone makes a virtual climb a superior option!
Climb with family members, your dog, your kid in a stroller. Or get your family involved in cheering you on with finish line signs, a medal ceremony, staffing your "water stations", etc.
Climb with friends, no matter where they live: A virtual climb lets you have a shared experience with your friends or family, even if you live halfway across the world. You can all start at the same time. Maybe Facebook Live or Facetime each other along the way for encouragement. Plan for a virtual brunch after the climb and meet up on Zoom for a mimosa and pancake party.
Registration is open now. Participation window will be September 3 to September 12, 2021. You can complete your climb activity on your own any time during that window.
You can climb ANYWHERE. With a virtual event, you can create your own course.
Yes, in order to fundraise and receive the shirt/medal/bib you need to register and sign our event waiver. Each participant must register individually to be eligible for fundraising awards.
Yes, you can register any time before 11:59 pm on September 11, 2021.
Yes! The more you raise, the better the prizes!
$150 – Shirt, medal and bib
$350 – All of the above plus hat
$750 – All of the above plus hoodie
$1000 – All of the above, plus special VIP amenity for the 2022 climb
We will also have Social media and Fundraising Friday prizes which will be announced periodically. Follow us on Facebook, Instagram, and Twitter – or open your weekly emails – to be notified of these opportunities.
There is no minimum age for the virtual climb!
Our in-person plan is to climb the 1197 stairs of the 555 California Street building in San Francisco. For the virtual climb we will offer a variety of activities that approximate this climb.
Since not everyone has access to that many stairs, here are some alternate workouts you can do that are the equivalent of the 1197 stairs at 555 California Street Building:
Stairs: 1197 stairs in your home, apartment, parking garage, office building, outdoor park. If your house has 12 stairs going down to your basement, climb it 100 times. Or maybe there is an outdoor staircase or parking garage near you that has 200 stairs – climb those 6 times (it's ok to climb up and take the elevator down…)
Steps: 1197 steps on a gym stair climber or elliptical machine either in your home or local gym
Step-Ups: 600 step-ups onto a chair or riser in your home, or low wall/bench in a local park
Walk: 7500 "strides" or 3.75 miles of walking outside or on a treadmill (try to add a hill or two in there to make it challenging)
Hike: 750 ft elevation gain (or 75 flights on your fitness tracker)
Swim: 1200 meters swimming (48 laps in an Olympic size pool, more in a smaller pool)
Run: 2 miles running (add some hill sprints for an added challenge)
Cycle: 20 miles cycling (road or mountain bike, or indoor bike trainer). Don't cheat with an e-bike (or maybe go longer distance if that is all you have)
Design Your Own Program. This is a great option for injured, disabled or otherwise physically challenged climbers, or climbers who prefer alternate workouts like kayaking, SUP, etc. (Contact us at [email protected] if you wish to go that route and we can help you come up with a course/workout that will qualify you for the awards)
A virtual climb doesn't mean you can't have fun with friends, family, co-workers. Try one of these ideas to add a little pizzazz to your climb:
Climb together: Video chat with your team and have someone ring a bell so you all begin at the same time in your different locations.
Relay: Set an order for a virtual relay. You can't start your climb activity until someone else from your team calls to say they're done and hands you a virtual baton.
Post-event celebration: After the climb, have a video call with your team to share stories of the route and unwind together. Maybe have an ice cream social or order food from the same restaurant.
Team Costume: wear the same costume, have t-shirts made with your team name, or dress in a certain theme. Or have a competition with your team to see who has the most creative costume.
Post photos to our Finisher Page!
Include great tunes: Check back here for an inspiring playlist to get you through even the toughest of workouts. But please be safe if you are doing your climb activity in public spaces and make sure you have at least 1 ear free to hear and be aware of traffic and people around you.
You can complete your virtual climb any time between 12:01am PST Friday 9/3 and 11:59pm PST Sunday 9/12
You can track it on your usually fitness tracker (Apple Watch, Garmin, Peloton, etc); or use a tracking app (Strava, MapMyRun, Health App, etc.)
To submit your climb, go to our submission form and enter the required details (including distance, activity, and a screenshot of your fitness tracker or route map)
Awards will be mailed out to virtual climbers after the fundraising closes. Most likely it will be sent at the end of September.
General Event & Fundraising
Yes! Take it easy and train at your own pace and consider your own capabilities. The virtual climb is not a timed activity. You can take 5 hours (or more) to do it if you want to!
You will be training on your own, but we will offer weekly challenges to help get you inspired and in-shape for the actual event day. Be sure to opt in to text messages and to join our social media pages to be alerted of these training challenges. There will be prizes to be had!
​
If you are under the care of a physician, please consult your doctor and obtain his/her permission to enter this event given the details of the climb. Train and hydrate. Hydration should occur well in advance of event day as well as during and after the climb. If you are new to climbing stairs, then start slow and build up your tempo. To reduce the risk of injury, place your entire foot on the stair each time.
You can check your fundraising page. A link to customize it should have been emailed to you immediately following registration. If you have questions or cannot access it, please email [email protected] and we will get you sorted.
Immediately after you register you will be able to start fundraising towards your goal (even before the official September 3rd start date for the virtual event, and September 11th for the in-person event).
KICK OFF your fundraising by making a personal donation. People are more likely to donate when they see someone else has already donated to the cause.
CUSTOMIZE your fundraising page. Share your personal story and pictures outlining why you climb.
SHARE with family, friends & co-workers why you are climbing and ask them to support your efforts!
IMPORTANT: For a Facebook Fundraiser to be credited to your fundraising efforts, it MUST be connected through your participant page.
For all of our fundraising tips, please click here
All donations are paid to the National First Responders Fund (NFRF). The National First Responders Fund (NFRF) is registered as a 501(c)(3) non-profit organization. Contributions to the NFRF are tax-deductible to the extent permitted by law. The NFRF's tax identification number is 82-3266569.
We would prefer if all donations are made online through your fundraising page. But we understand that some business or relatives may wish to give you cash or a check.
Please download our offline donation form here and return with payment to:
2021 Stair Climb Donations
National First Responders Fund
700 Montgomery St
San Francisco, CA 94111
As soon as your donation is received we will manually add it to your fundraising total. Please send us an email at [email protected] if you do not see the donation posted within a few weeks.
NOTE: If you receive a cash donation, please keep the cash yourself and write us a check in that amount – please do not send cash through the mail.
We will do our best to accommodate changes onsite for in-person climb (or via email for virtual climb) – but we will be pre-ordering the shirts based on the size you provide at registration, so any changes will be subject to availability.
Yes, we encourage you to create a fundraising team and fundraise together. For the actual climb, please only climb with members of your immediate household or social bubble, or be sure to wear masks and stay 6' apart (follow local guidelines).
All team members must meet the fundraising requirement individually in order to receive awards. Team totals do not count towards other members of the team (for instance, only members who raise at least $150 will receive the shirt/medal/bib. If one member raises $300 and one member $0, even though that averages $150 each, only the member who raised the $150 will receive the award.)
This is to encourage everyone to raise funds, and to raise the most amount of money for NFRF and First Responders in need.
Yes, both virtual and in-person climbers can join together to raise money.
We climb because of the demands of their profession, first responders succumb to numerous mental health issues, including PTSI, substance abuse, and suicide, at alarming rates.
A person who is among those responsible for going immediately to the scene of an accident or emergency to provide assistance, including police, fire, EMT and dispatchers.
A mental health condition that's triggered by a terrifying event, either experiencing it or witnessing it. Symptoms may include flashbacks, nightmares and severe anxiety, as well as uncontrollable thoughts about the event. (Mayo Clinic)
Firefighters have significantly higher rates of PTSI than the average person. The rate for PTSD in firefighters is over 22% with the strongest predictor being number of years of service. The more time on the job, the more likely it is that firefighters experience PTSD.
One of the most common symptoms of PTSI is alcohol addiction. Almost 30% of firefighters experience problematic alcohol use. (Boxer and Wild, 1993) Cincinnati's National Institute for Occupational Safety and Health conducted a survey in 1993 where it reported an estimate that up to 29% of firefighters have had problems with alcohol use and/or abuse. (Clinical Psychology Associates, 2013)
Sadly, without help Firefighters are at a greater risk of contemplating suicide. Suicide is the 10th leading cause of death in the United States, with and estimated 13 people per 100,000 dying by suicide annually. A study published in July 2016 by the Centers for Disease Control looked at suicide in 17 states and found that rates of suicide among emergency services personnel (which includes both firefighters and police) was 34.1 per 100,000, more than double the national average among the general population (www.firechief.com, 8-15-16) A Florida State University Study has shown that nearly half of firefighters have contemplated suicide and approximately 15.5% have actually attempted suicide.
If you have specific questions about the Stair Climb please submit the form below. For general NFRF inquires, please visit the Contact page.